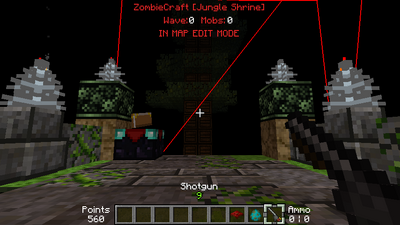 The shotgun is a spread weapon in Zombiecraft 3. If fires multiple bullets at one time in a cone fashion. It's bound to be a good weapon if you're close enough to the enemy. Thanks to spread and Zombiecraft 3's headshots, the shotgun is an extremely deadly weapon.
Damage: 3 (12 bullets total. If all bullets hit one enemy, 36 damage is dealt to that enemy.)
Spread: 14
Recoil: 8
Cost:150
Firing Speed:~1 shot per second
The shotgun is the only weapon that shoots multiple bullets at once in all of Zombiecraft history, excluding the Trenchgun.
The reload time of the shotgun depends on how many bullets you have. Here is the equation: 20 * (<Number of bullets> / 2)
Known Bugs
Edit
Repeatedly pressing the shoot button will result in delayed recoil and sound.