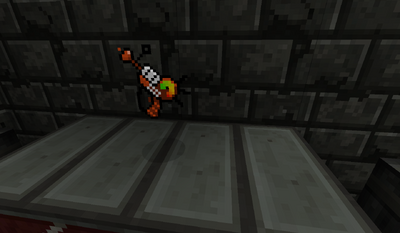 Unlike Treyarch's World at War, the Raygun does not deal splash damage, and is fairly weak put up against the bouncing betties and MP40. The Raygun is often picked as a sidearm to the MP40
Statistics:
Edit
Zombiecraft 2.x
Edit
Damage:1-2 shot
Ammo Type: Raygun - 36 per clip
Firing Rate: Medium
Zombiecraft 3
Edit
Damage: 5
Spread: 0
Recoil: 0
Cost: 350
Firing speed: ~ 5.2 shots per second.
Fun Facts
Edit
The Raygun contains the second most ammunition per clip.
Ad blocker interference detected!
Wikia is a free-to-use site that makes money from advertising. We have a modified experience for viewers using ad blockers

Wikia is not accessible if you've made further modifications. Remove the custom ad blocker rule(s) and the page will load as expected.