The Kar98k can usally be found in the first room of Zombiecraft Maps. Due to it's low rate of fire and low damage, it is not a recommended weapon. The Kar98k costs 200
points
off of a wall.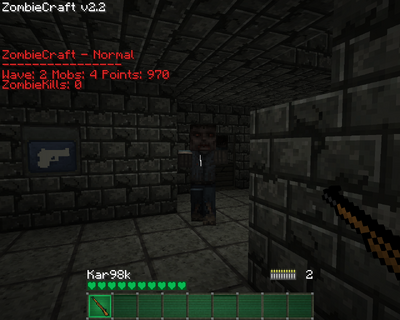 Statistics:
Edit
Damage: 2
Ammo Type: Kar98k Ammo - 10 per clip
Firing Rate: Very Slow
Fun Facts
Edit
The AR-35 also uses the same ammo as the Kar98k and vise-versa. You can buy a Kar98k and trash the gun for the ammo, effectivly stockpiling ammo for 200 points!
Rapidly clicking the shoot button instead of holding it down will shoot the Kar90k faster.
Ad blocker interference detected!
Wikia is a free-to-use site that makes money from advertising. We have a modified experience for viewers using ad blockers

Wikia is not accessible if you've made further modifications. Remove the custom ad blocker rule(s) and the page will load as expected.